Curating the best graduate thesis project globally!
The UDL Thesis Publication is an exclusive platform that allows undergraduate and postgraduate students to showcase their creative and research-based thesis projects in the areas of urban design, landscape architecture, and planning. Through this publication, students can showcase their innovative approaches and ideas, thereby receiving recognition and appreciation from their peers, industry experts, and the academic community globally.
The primary objective of the publication is to promote global design and research trends and provide valuable insights into the latest developments and innovations in the field of urbanism. It will serve as a significant resource for academic and professional communities, including students, researchers, scholars, and practitioners associated with the field.
The publication features exceptional undergraduate and postgraduate student theses completed in the urban domain in the last five years. It includes 40 selected entries that underwent a rigorous evaluation by expert jurors, providing valuable insights into their intricate design processes. An ISSN will be assigned to the publication for easy recognition and referencing within academic and professional communities.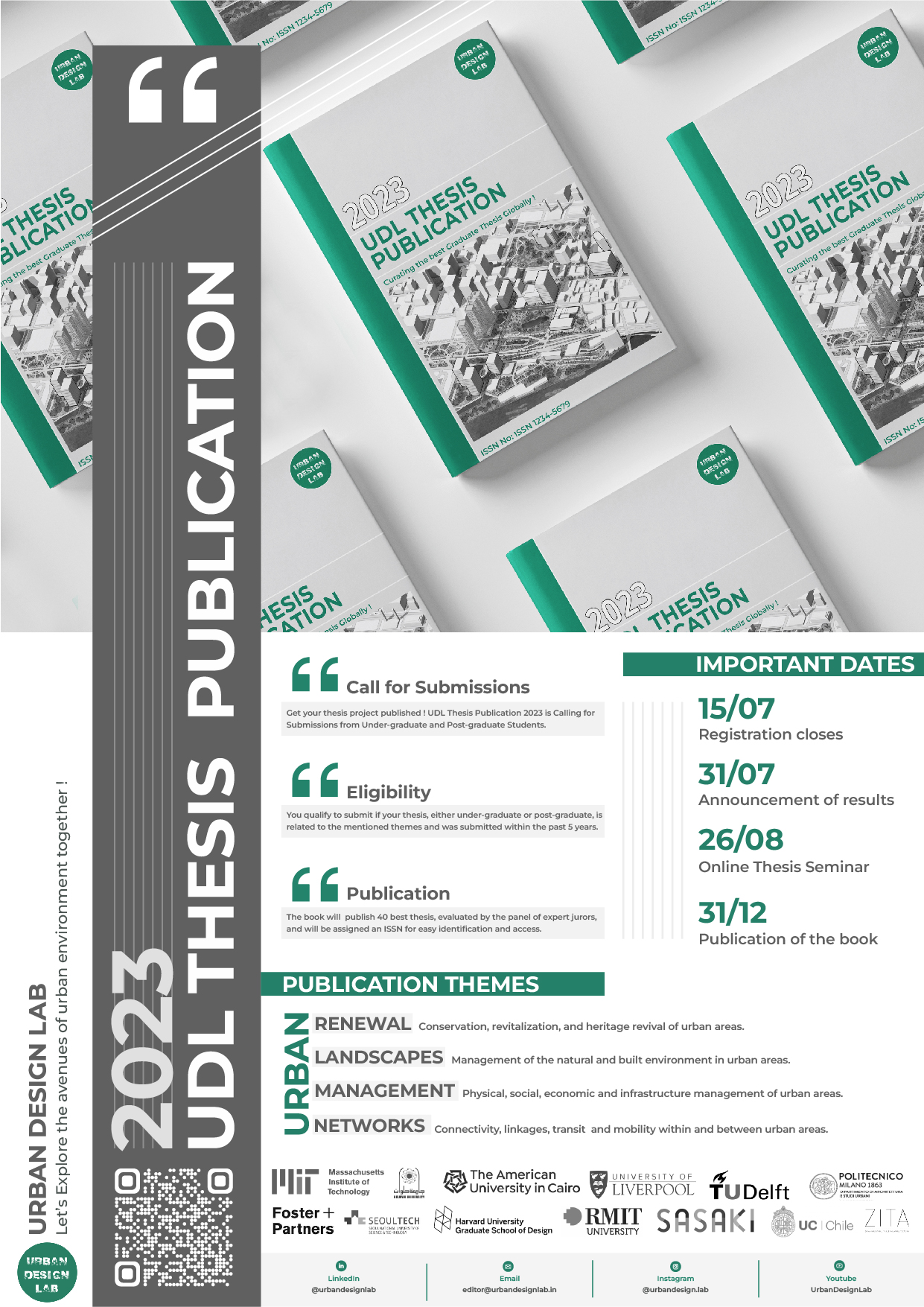 Publication Themes:
The publication will showcase innovative design and research-based thesis projects based on specific themes and subthemes:
Urban Renewal – Conservation, Regeneration, Revitalization, and Heritage Revival
Urban Landscape – Climate Resilience, Green-Blue Infrastructure, Landscape Heritage, Landscape Health and Well-Being, Sustainable Urbanism, Recreation and Leisure
Urban Management – Housing, Social and Community Management, Urban Conflict Management, Urban Risk Management, Tourism Management, Inclusive Urbanism
Urban Networks – Mobility and Accessibility, City Linkages, Transit Oriented Development, Water Based Transit Connectivity. 
Important highlights of the publication:
Certificates of Participation: Participants will receive certificates of participation, adding value to their resumes and demonstrating their commitment to research and design.
Publication in a Book with an ISBN Number: The selected 40 thesis entries will be published in a book with an ISBN number, increasing the visibility of the thesis project and making it accessible to a wider audience.
Presentation to Esteemed Panel of Urban Experts and Professionals: The selected participants will have the opportunity to present their work to an esteemed panel of urban experts and professionals from around the world, receiving valuable feedback and exposure to their research.
Honorable Mentions: 10 honorable mentions will also be recognized and published on the UDL Thesis publication website and social media, increasing the visibility of their work and potentially leading to future opportunities.
Recognition of achievement and global outreach: Being selected for publication or receiving an honorable mention can be a prestigious recognition globally for one's research and academic achievements.
The tentative schedule of the publication would be
Closing Date for Registration: – 15th July 2023
Announcement of the Results- 31st July 2023
Online 2-Day Thesis Seminar – 26-27th August 2023
Publication (ISSN attributed Book) – December 2023
Other Details:
Title: UDL Thesis Publication | 2023
Type: Call for Submissions
Organizer: Urban Design Lab – https://urbandesignlab.in/
Event Website: https://urbandesignlab.in/udl-thesis-publication-2023/