Last week we took a look at how parametric design can improve the accuracy of your urban design. This week we wanted to continue the conversation to discuss how Interactive 3D Zoning™ is a bridge between urban planning and urban design, and how an interactive 3D solution space can increase your accuracy and speed.
Modelur is an extension for SketchUp designed specifically for urban designers and planners. Through the use of parametric buildings, interactive 3D zoning, real-time feedback, live-sync for Excel, and massing generator, Modelur gets the job done.
Traditional Site Zoning
Zoning is a method of urban planning in which a municipality or other tier of government divides land into areas called zones. Each of these zones has its own set of regulations that new developments must follow if they want to be built.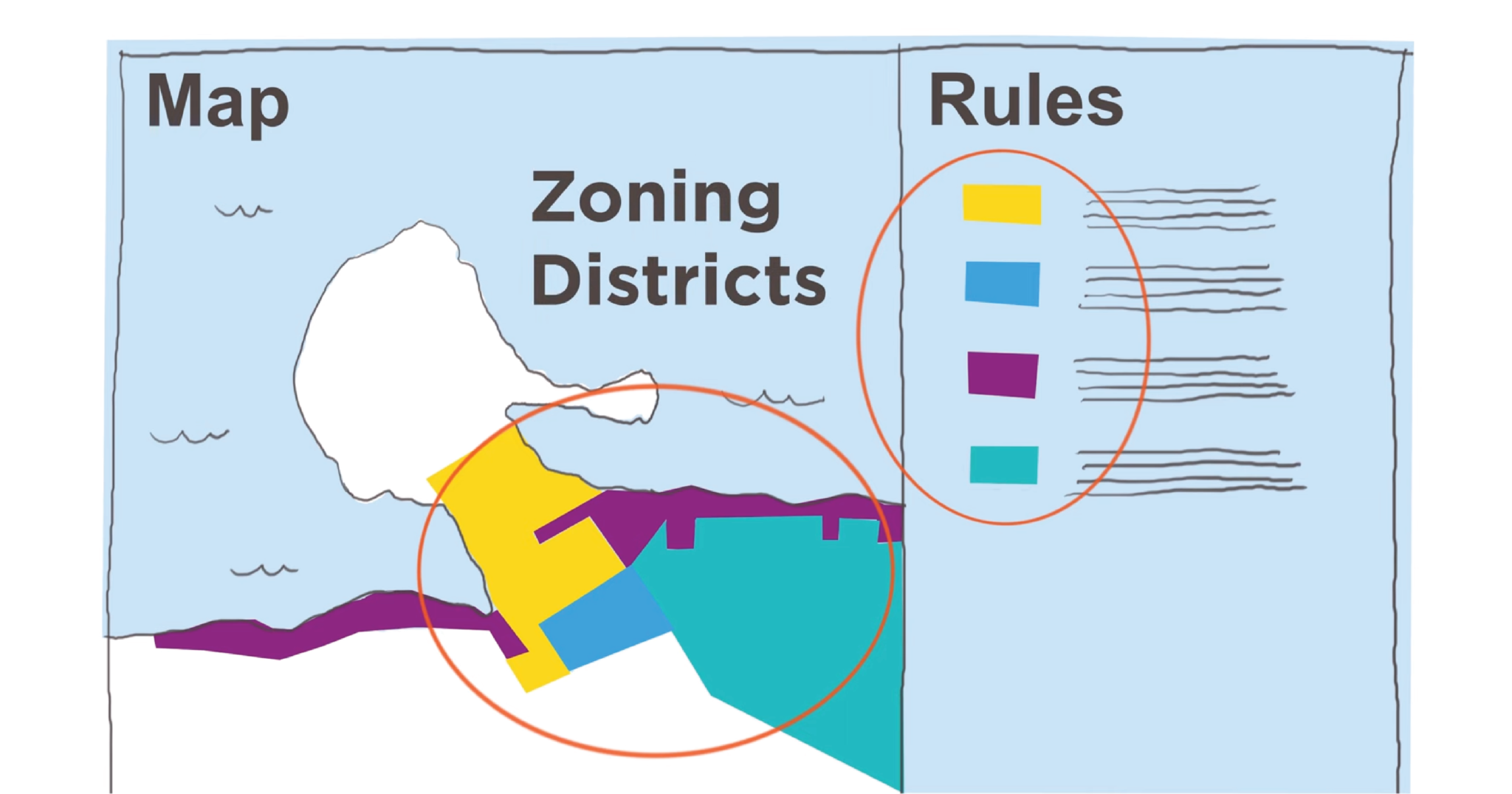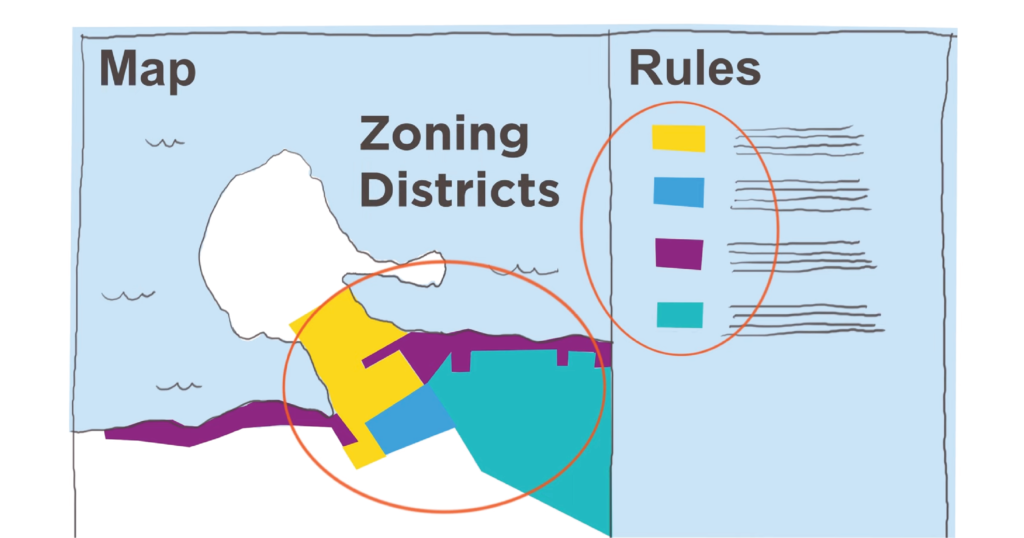 In practice, zoning creates a type of envelope around potential new developments. These invisible envelopes define the limits of massing in specific city blocks. These barriers are used to define the overall landscape and character of a neighborhood. If you design a building that exceeds these rules, the developers will not be able to build it.
Zoning ordinances define these rules and are typically created in official documents by the local government to determine the allowances and limits of future developments. These documents are complex, long, and not intuitive.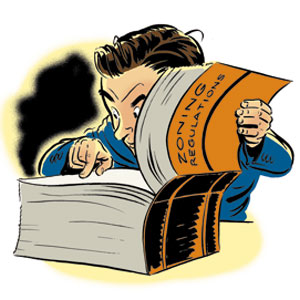 One way urban planners deal with this complexity is through visualizing land use on 2D maps with a color-coded system. GIS programs like ArcGIS or Urbinfo took this even further by allowing interactivity with the map. Clicking on a city block will bring up the zoning ordinances for that block.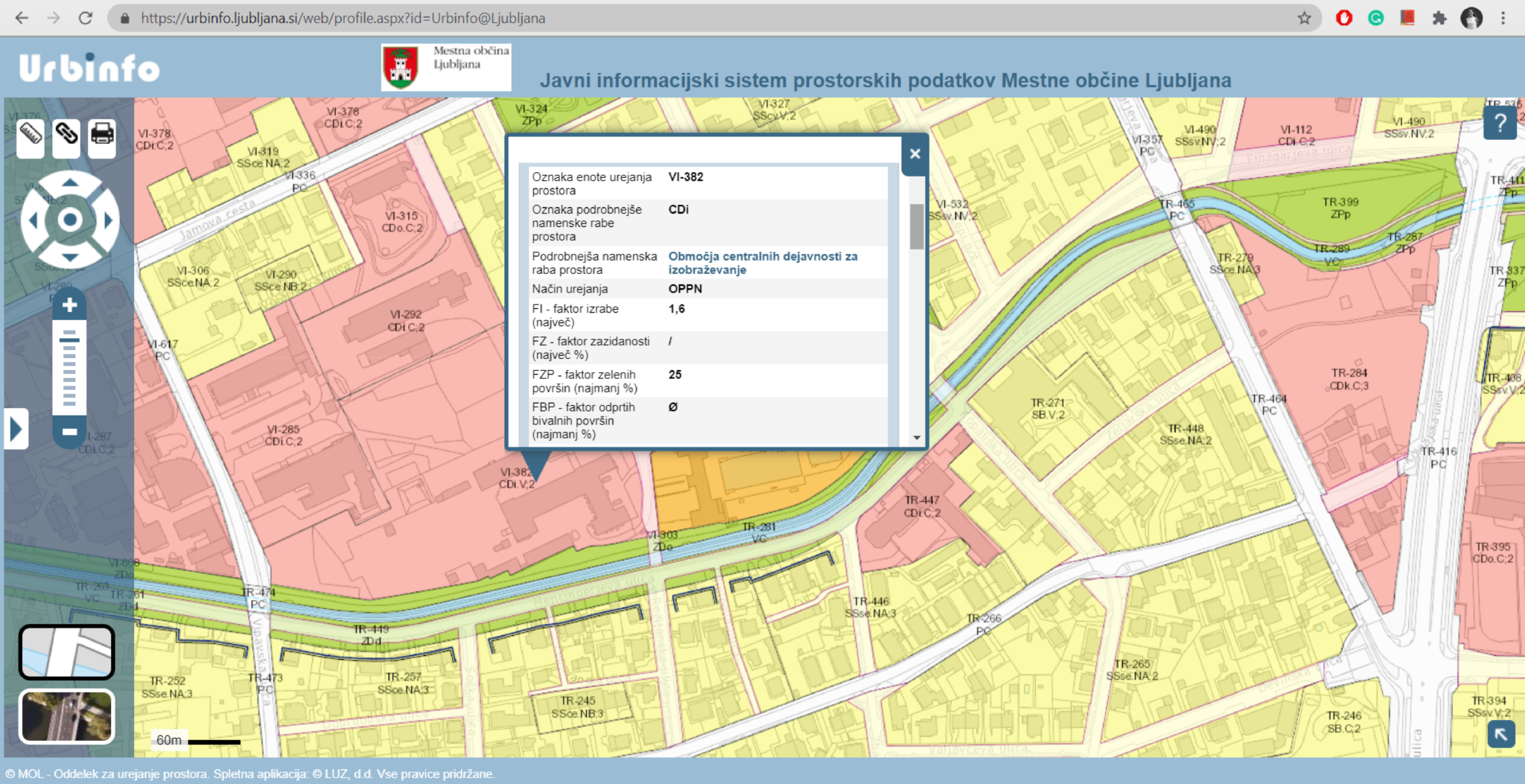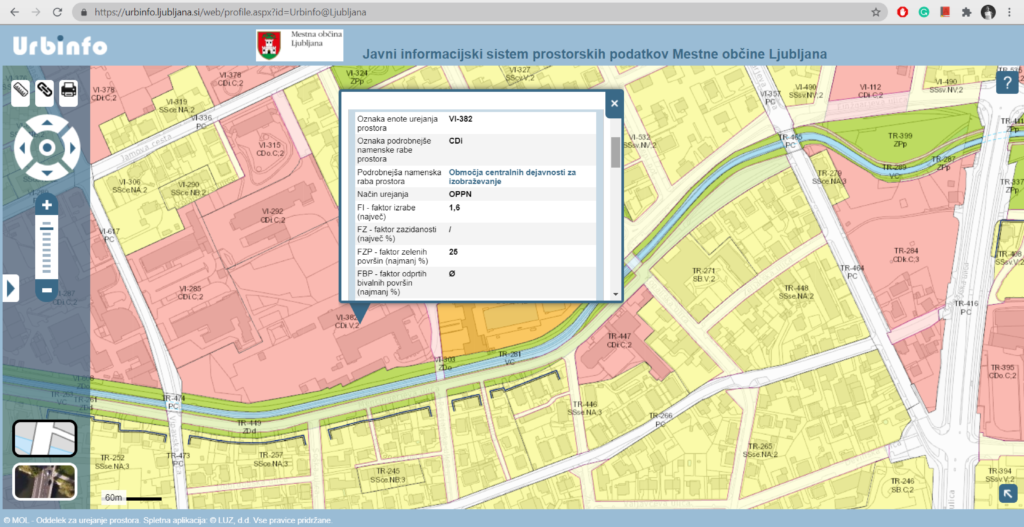 When working on a large project with multiple structures it can become very tedious to double or even triple-check that your buildings comply with local ordinances (ie: maximum height, FAR, site coverage, etc.)
Interactive 3D Zoning™ was created to handle this challenge and improve the design process by improving speed and accuracy.
Interactive 3D Zoning™
Interactive 3D Zoning™ converts zoning ordinances into an interactive 3D solution space. This means that rules and regulations are available visually in your workspace and respond to changes you make.
We created a system that adds these rules of a city block to an actual object inside Sketchup when Modelur is activated and running. If you move a building from one city block to another, it will adapt to the local ordinances instead of manually making the adjustments every time.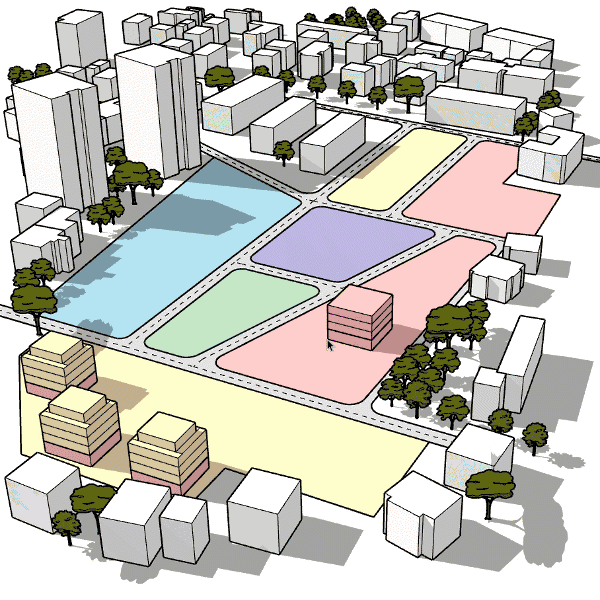 Previously, each building and city block would need to be designed one-by-one, but with Modelur's Massing Generator and Interactive 3D Zoning™, this process can be completed with a couple of clicks of your mouse.
If a building happens to exceed one of the ordinances then the city block will turn red to alert the designer that something is not correct. It will not revert back to its original color until all local ordinances are complied with.
Interactive 3D Zoning™ allows us to visualize how the zoning ordinances convert into 3D space. Combined with parametric design these are a powerful duo to amplify and improve your work. Parametric buildings are a prerequisite for interactive 3D zoning to take place, this is why a building moved from one block to another inside Sketchup (with Modelur) will adapt to the ordinances of that block.
Benefits of Interactive 3D Zoning™
We are not here to spout off a list of benefits without actually testing our technology with professionals. That is why we carried out research to see if there were any benefits or disadvantages to using Interactive 3D Zoning™ compared to traditional zoning.
Two groups of 20 participants each were given a set of prompts with requirements and told to design a new development of 4ha size on a real location in Ljubljana. The development was split into two equal-sized parts. Half of the group created design manually on part A and using a parametric approach on part B. The other half did just the opposite, designed part A using a parametric approach and part B manually.
The results speak for themselves, so let's dive in.


Multiple Solutions
Modelur held a workshop with 20 participants, all professionals, who were required to design a development. Each participant created a completely different solution but at the same time, they all followed the local zoning ordinances.
The Interactive 3D Zoning™ not only allows for the possibility of multiple solutions, but it actually fosters them.
Increased Transparency
We asked people who are usually part of the urban design process how they found the Interactive 3D Zoning™ compared to standard in terms of transparency and understanding the ordinances.
The results show that it does significantly increase the transparency and understanding of a project. This is due to being able to literally visualize local zoning and how it applies to 3D space. This way Interactive 3D Zoning™ can actually help cities engage more with the public, not only on paper but also in practice.
We also took a look at how long it took for participants to complete their design using Interactive 3D Zoning™ vs traditional zoning. It shouldn't come as a surprise that Interactive 3D Zoning™ was 2.4 times faster than traditional methods. Today we believe the number is between 3-5, depending on the development size.
Higher Level of Control
We were curious about the level of control a designer would have using traditional zoning vs Interactive 3D Zoning™. We asked participants to complete a task of achieving a FAR of 1.5.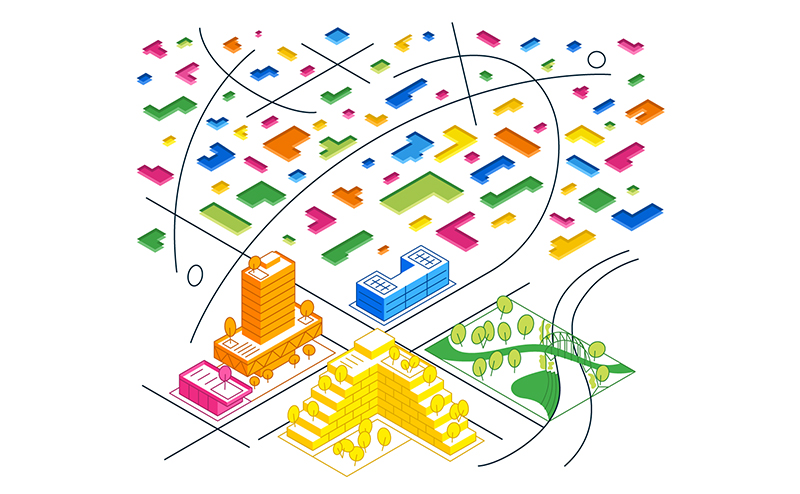 Saves Time
Participants who needed to remember the rules and calculate numbers by hand had a very difficult time getting the task correct. When using Interactive 3D Zoning™ almost every single instance completed the task correctly and within the set parameters.
Project Quality with Interactive 3D Zoning™
The final aspect that we tested was quality. Would Interactive 3D Zoning™ affect the quality of a design compared to traditional zoning? The answer is easy, it does not. It does not decrease or increase the quality of a final design. Quality is influenced by the individual creator and their talents.
What this means is that while Interactive 3D Zoning™ can help produce an infinite amount of possible solutions, increase understanding about local ordinances, save time, and give you a higher level of control, and precision it will not affect the final product's quality.
Modelur is simply another tool in your toolbox to help you get the job done. It gets the job done faster while not having to worry about every single tiny ordinance giving you more time to refine your final product.
We believe that using Interactive 3D Zoning™ can improve the way urban planning and urban design work together. At the moment, these two related disciplines and are not connected well, as if they were something completely distinct. The idea of Interactive 3D Zoning™ is to connect them directly in the interactive 3D solution space where users can design the city directly within its rules.
Curious about how Interactive 3D Zoning™ can improve your workflow? Sign up for a free trial today and work faster with more accuracy leaving more time to focus on what you love.