The Trust for Public Land organization wants to ensure that every person in America has access to a park or natural area within 10-minute walk from home. To achieve this goal, the Trust for Public Land teamed up with Esri, a leading GIS software company. Together they developed a mapping software named ParkServe. It measures and analyzes current access to parks in cities across the USA.
Mapping Software ParkServe
ParkServe is an online tool which can be found here. User just performs a city search and ParkServe displays the city's profile. The profile includes the number of parks in the city, the area that is covered by parks, percentage of residents that live within a 10-minute walk of a park etc. The database currently contains information for 14,000 cities. Users can also check where existing parks are and in which areas need more parks. Existing parks are marked green. Yellow, orange and red colors indicate areas where more parks are still needed. "The ParkServe data platform takes the guesswork out of planning where to put a park" said Breece Robertson, The Trust for Public Land's Geographic Information System director. "It tells mayors and recreation departments, 'To serve the most people in need, build a park right here.'"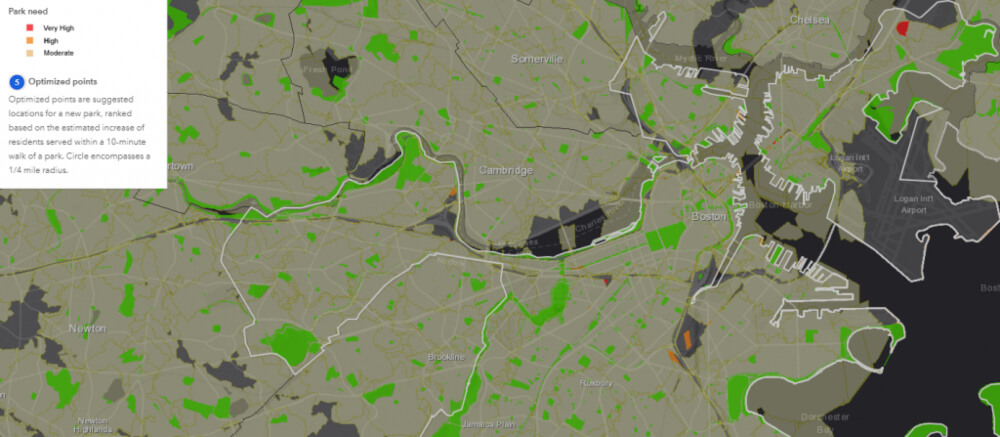 The Need for Green Spaces
Parks and green areas are one of the most important parts of the city. Plants help clean the air and prevent urban heat islands in a natural way. Parks serve as meeting points where people can socialize and relax. This helps strengthen the sense of community. Green areas provide a good place for recreation. This encourages people to be more physically active which improves their health.
"Today, more than 100 million people in communities across America don't have a park within a 10-minute walk of home — and that's 100 million too many," said Diane Regas, President and CEO of The Trust for Public Land. ParkServe software can aid the cities to determine where to site their parks to get a maximum effect for their money.
Photo source: https://www.tpl.org/
Source: